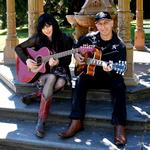 Destiny Band Oz

www.destinybandoz.com.au

Date: Saturday 31 October 2020 at 7:30 PM
Venue: Menai Hotel , Burnie , TAS [venue info/website]
Tickets from: Venue
Genre: Various

Halloween themed night! Dress up in your best halloween costume!
Prize for best dressed!
About Destiny Band Oz
Destiny Band Oz is the performing name of husband and wife singer-songwriters, Thomas and Tessa Libreri from Gippsland, Victoria. They burst onto the country music scene in 2017 with the release of their original music which ranges from soulful ballads to fun, pumpy country rock. They feel blessed to have had multiple #1 chart successes, awards and nominations both in Australia and overseas; including winning International Band of the Year 2019 at the International Singer-Songwriter Association Awards USA; RRTCR World Indie Network Best Duo for 2019 (USA); National Artist of the Year 2019 and National Band of the Year 2018 at the Tasmanian Independent Country Music Awards; the 2018 and 2019 Gold Medallion Media Award for Duo and Collaboration of the Year; 4 International Music Awards for Best Indie and Best Country Song in 2018 & 2019 and Overall #1 song for 2017 in Tasmania. Also finalists in numerous other music competitions. They've so far recorded 3 albums & 2 EPs: Take Me Back in Time; Makin Music, Changes, From the Heart (EP) and Special Songs EP. Available from all major online stores, by direct mail order from Destiny Band Oz website, facebook page or live shows.