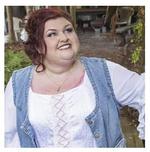 Cec Peterson
Music & Mates Acoustic Sessions
http://www.facebook.com/cecpetersonmusic

Date: Saturday 10 October 2020 at 10:30 AM
Venue: Cafe on Cowlishaw , Redhead , NSW
Tickets from: Venue
Genre: Various

Music & Mates Acoustic Sessions
The friendly open mic event where everyone is welcome.
Bring along your instrument & share your songs with us.
Each artist is allocated 15min spot!
This is a free gig.
About Cec Peterson
Cec is a singer-songwriter from Lake Macquarie, she performs a large variety of popular covers & original songs in an acoustic style. Cec grew up in a large family where music played an integral part & she began songwriting in her teen years.

Cec performed with her sisters (The Rough Diamonds) from 2006 to 2019, celebrating several successful achievements including releasing two original CDs, gaining national & international radio airplay, performing at several Country Music Festivals as well as sharing the stage with many of their idols in the music industry.

In 2016, Cec & her partner Paige began performing together as Country Lovin'. Releasing their debut EP 'Feel The Breeze' in August 2019, the title track entered the Country Charts at number 37.

Cec took a big step outside of her comfort zone mid-way through 2019 & launched her solo career as a singer-songwriter. She loves sharing her stories & life experiences through song.

Cec is a friendly, outgoing performer who brings a smile to  her audience & has them singing along with her to many old favourites.