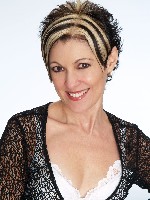 Kel-Anne Brandt

http://www.kel-annebrandt.com

Date: Thursday 16 January 2020 at 11:45 AM
Venue: Everglades Country Club , Woy Woy , NSW [venue info/website]
Tickets from: Venue
Genre: Various


About Kel-Anne Brandt
Title holder of the 'Mo Award' for 'Female Vocal Performer of the Year' 2014, Kel-Anne Brandt is undoubtedly one of the hardest working Country Music Artists in Australia. Her versatility as an established recording and performing artist has her performing Contemporary and Classic Country songs right across Australia and Internationally.
Drawing from the same well as Patsy Cline, Linda Ronstadt and Wynonna Judd you'll also sense a dash of Anne Murray and Dolly Parton and Dusty Springfield. The 'Pocket Rocket' has an energy and passion for entertaining, equally matched with her strong and emotive voice and dynamic stage presence.
Kel-Anne has released a plethora of singles both Nationally and Internationally including a #1 Hit on the USA Country Charts with her popular song, 'Grandma'.
Kel-Anne has earned scores of Music Awards since beginning her professional career in 1998. She has appeared on legendary television shows such as the Bert Newton Show and has performed duets with the likes of Aussie Rock Legend Brian Cadd.
Kel-Anne aspires to bring Joy, inspiration and motivation to her audiences. Kel-Anne's current single is 'All That Matters' Kel-Anne is working on her new Album...