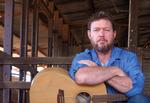 Graham Howle
Live and Acoustic
http://www.howlermusic.com.au

Date: Sunday 5 January 2020 at 4:00 PM
Venue: Yea Country Club , Yea , Vic [venue info/website]
Tickets from: Venue
Genre: Contemporary / Modern Country


This is a free gig.
About Graham Howle
"Writing will not leave me alone, it's on my mind before I go to sleep at night and it's what wakes me in the morning.
My music - 'a place where I do not need to conform'. "- Graham Howle.
The 2016 debut album 'Man with a Story' strongly introduces this skilled storyteller and songwriter. Vocally mesmerising, musically inviting and lyrically emotive Graham Howle delivers authentic, original and truly Australian stories in song. Graham does this so well that many have mentioned, once purchased the cd has never left its position in their players! It is difficult to fit Graham's music into one genre, there is alternate country, mainstream country, folk-country and some 'not country'.
Graham Howles' handsome voice sends out his lyrics raising emotions in listeners who clearly see the story unfolding within their minds. Melodies expertly ring from the guitar, words and stories resonate and Graham brilliantly delivers an unforgettable experience to all.