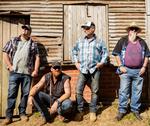 The Mason Boys
MCAV 2020 Merrijig Get Together
http://www.themasonboys.com/

Date: Saturday 11 January 2020 at 8:30 PM
Venue: McCormack Park , Merrijig , Vic [venue info/website]
Tickets from: Venue
Genre: Country

The Mason Boys will playing some of the finest Country/Rock for the Mountain Cattleman's Association of Vic at their Annual Get Together.
About The Mason Boys
The Mason Boys (TMB) aren't your usual country band. They will shake the foundations with pure energy and the excitement of modern country-rock. Add some tender and heartfelt country ballads, and well-known country-rock covers, and you have the outfit for all occasions. TMB are now regulars at the TCMF, playing at some of the greatest pubs and at FanZone on Australia Day. TMB are an independent band from the outskirts of Melbourne having worked in bands over the years across many genres in their own right and coming together to form what is fast becoming Australia's most talked-about country outfit. They pay homage to many influences that can heard in their material. The band has developed a great sound with a dynamic frontman, punchy guitar tones supporting their multi-harmony vocal delivery, and a tight groove generated from the engine room. With five songwriters in the band, a diverse range of styles and feels are the result in their original material, with titles such as This Land, Greatest Darn Show, Buck Off, Back in the Saddle, Playing Country, Feels Like Home, Missing You, Whiskey Time and Railway Man.