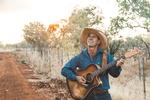 Tom Curtain

https://www.tomcurtain.com.au/

Date: Friday 31 January 2020 at 6:00 PM
Venue: Molong Campdraft Ground , Molong , NSW [venue info/website]
Tickets from: https://www.tomcurtain.com.au/tour/
Genre: Country

Multiple Golden Guitar winner, Tom Curtain's We're Still Here Tour consists of:
- 1 hour of his national award winning Katherine Outback Experience horse and dog show
- 1 hour of live music with special guests.
Book your tickets today!
About Tom Curtain
To celebrate the release of his fourth album, We're Still Here, multiple Golden Guitar winner, Tom Curtain, is bringing his national award-winning outback horse and dog show back to Tamworth! Tom and wife Annabel own and operate Katherine Outback Experience (KOE), a family-friendly outback show that celebrates life on the land through real horse training and working dog demonstrations, live music and storytelling. KOE is one of Australia's highest-rated tourist attractions. Located at the Paceway Tamworth Indoor Arena, the show consists of an hour-long outback show followed by a full hour's concert by Tom Curtain and special guests including Chris Matthews. Tom's 3.5 month We're Still Here Tour kicked off in November 2019 moving through regional QLD, NSW, VIC, SA and NT. As the official ambassador of Dolly's Dream, the team will visit a number of schools and communities along the way to spread the Dolly's Dream message.