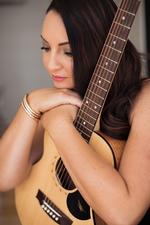 Kalesti Butler
Tamworth Country Music Festival 2020
http://www.kalestibutler.com

Date: Friday 17 January 2020 at 9:00 AM
Venue: Tamworth Country Music Festival , Tamworth , NSW
Tickets from: Venue
Genre: Country


This is a free gig.
About Kalesti Butler
While most will know Kalesti Butler, a 2011 CMAA Academy Of Country Music graduate for her bush ballads and traditional sound, over recent years Kalesti has wanted to explore the wider musical genre. Working with Robert Mackay from Pacific International Music on her upcoming album, has only reinforced Kalesti's decision to add to her musical range.
Kalesti was thrilled to learn she had similar views with her producer about the industry, song choice, and the kind of album she wanted to create. Work was recently completely on her 2nd album "Airborne", released at the 2017 Tamworth Country Music Festival.