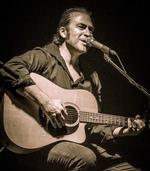 John 'K' Krsulja
Shootin' Sadie Tour
http://www.johnkrsulja.com.au

Date: Saturday 17 April 2021 at 7:30 PM
Venue: DAG Sheep Station , Nundle , NSW
Tickets from: Venue
Genre: Alt Country/Americana

John Krsulja opens for Shootin' Sadie a one woman theatre show set in the Wild West, offering an intimate, unique and pared-back theatrical experience enhanced by compelling music, lighting and sound effects. Written and Performed by Natasha Soonchild.
About John 'K' Krsulja
John Krsulja, 2017 Golden Guitar winner from the hills of gold, Nundle NSW is an emerging artist and no stranger to the art of engaging an audience with his warm, rustic tone and honest, simple storytelling. His debut album, Travellin' produced by the late Karl Broadie, was a finalist for Album of the Year at the inaugural 2016 Australian Roots Music Awards, held in Nimbin, NSW. His song, The Old Man's Shed, co-written with and recorded by Luke O'Shea won them both a Golden Guitar at the 2017 Tamworth Country Music Festival for Heritage Song of the Year, with John's own recorded version awarded an honourable mention as a finalist in the prestigious 2016 International Songwriting Competition, in the performance category alongside Australian greats Paul Kelly and Troy Cassar-Daley. Late in 2019, John entered Matt Fell's Love Hz Studio in Sydney to record a new album.