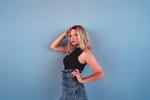 Katie Jayne
Drunk Dial Single Launch Tour
http://www.katiejayne.com.au

Date: Sunday 4 April 2021 at 2:00 PM
Venue: Club Macquarie , Argenton , NSW
Tickets from: Venue
Genre: Country


This is a free gig.
About Katie Jayne
Katie Jayne embodies the new generation of pop country Artists, already making waves on the Australian scene. Her latest single No Shadow has received over 200,000 streams on Spotify in it's first two months of release alone, the song hitting the KIX COUNTRY Top 20 Chart and high rotation on CMC.

January 2018 saw Katie Jayne's first Single release, 'Sunlit Avenue' which debuted at #5 on the Country iTunes chart, gaining airplay on Australian country radio and the Country Music Channel. Katie was invited to play two full band shows at this year's Gympie Music Muster off the back of her first release, and released her second Single in September '18.

'No Shadow' debuted at #7 on the iTunes Country charts and quickly gained traction after being added to Spotify's curated playlist, "Fresh Country". This saw streams for 'No Shadow' quickly blowing up, with over 150,000 streams in the first month of release. The flow-on effect saw Katie Jayne's debut in the KIX Country Top 20 chart, as well as receive high rotation on the Country Music Channel.