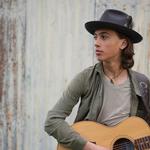 Rory Phillips
Falling Leaf Festival
https://www.roryphillips.com.au

Date: Saturday 24 April 2021 at 3:30 PM
Venue: Falling Leaf Festival , Tumut , NSW
Tickets from: https://www.fallingleaffestival.com.au/
Genre: Various

The Falling Leaf Festival is a celebration of everything Tumut and surrounds has to offer during Autumn. With the colours constantly changing and the crisp sunny days, it's the perfect time to celebrate and you're invited! Rory Phillips joins the entertainment lineup along with Montgomery Church and headliners Lyn Bowtell & Luke O'Shea.
This is a free gig.
About Rory Phillips
With a deep love of music flowing through his veins from a very early age, Rory Phillips is not your average 14-year-old. In fact, most describe him as an "old soul", a fitting description for someone who has been on stage since the age of seven and has already achieved more than most.

Musically, Rory sits anywhere in the realm of blues, alt-country, folk or rock and considers himself a musician first, a singer/songwriter second, although he is honing his gift for both. Finding inspiration in what he knows, Rory has co-penned songs about life on the road, his future aspirations and the issues he sees in the world. His current single 'The Truth' is a passionate call-to-action on climate change which achieved a #1 spot on the AMRAP Regional Charts and, along with his debut music video, has received national, regional and local media attention for all the right reasons. "Rory Phillips is one of a kind. He is a tiny force to be reckoned with (who won't be tiny for much longer) and I think this song is really showcasing his growth, and something he really cares about" Fanny Lumsden