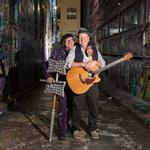 The Bushwackers

https://thebushwackers.com.au/

Date: Sunday 25 April 2021 at 1:00 PM
Venue: Blacktown RSL , Blacktown , NSW
Tickets from: Venue
Genre: Country

Annual Sydney ANZAC Day Show at Blacktown RSL. Come commemorate and celebrate with us.
This is a free gig.
About The Bushwackers
Celebrating their 50th year on the road in 2021, The Bushwackers remain as musical and energetic as ever, bringing their Australian classics to heart-pounding life with fiddles, accordion, guitars, bass, drums and the mighty lagerphone of Dobe Newton beating out the rhythms. The Bushwackers are simply the classic Australian band. Their music is an eclectic mix of Australian folk songs reimagined in true Bushwackers style. Foot-stomping, Irish-inspired instrumental pieces and original songs, such as the iconic I Am Australian (co-written by Dobe) and many other original songs which have become favourite Bushwackers classics. The Bushwackers have won three Golden Guitar awards, created 24 studio albums, four books of songs, stories and tunes and have performed packed-out shows at all the great festivals around Australia. The Bushwackers are Australia's best known, best loved Australiana band and they bring their unique Australian sound and spirit to any festival stage.